Keshia Freeland Ministries Mentoring Program, 'Chosen Treasures,' helps women of God discover their calling, plan, and purpose in Christ. The
ultimate goal is to prepare and equip women to be leaders, stewards, and warriors for the Kingdom of God.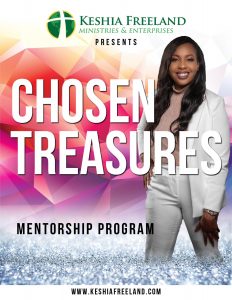 Minister Keshia has mentored over xx(add the approximate number that have completed courses) Women of God from ages 17 to xx(add age bracket) Participants include pastors, professors, xxxxxxxx (Add in all the professions of the women you mentor)

Women are empowered to know they are CHOSEN for this time and hour. Every woman is uniquely designed by God to carry out their destiny on the earth. Minister Keshia's courses, scriptures, and prophetic revelation pushes every woman to their next level and divine destination. As women, we carry so much on our shoulders. Our responsibilities as mothers, wives, friends, career women, community leaders, etc. can often burden us with the things of this world. But, we are mandated to carry forth the mission of Jesus Christ. Women Of God are biologically created to birth children. But, we are also spiritually created to birth vision, purpose, and destiny. Now, is the time and opportunity to be the "torch carriers" for Christ.

"This mentorship program will hold you accountable to Christ. You will feel renewed, recharged, and ready for the calling of Christ. Minister Keshia has helped many women carry those torches and served as the midwife to assist women in breathing life into their God-ordained destinies. "– written by, (Add full name), mentee of Keshia Freeland Ministries Chosen Treasures Mentorship Program.
A letter from Keshia –

"A mentor is someone who sees more talent and ability within you, than
you see in yourself, and helps bring it out of you" – Bob Proctor I See You… I see you because once upon a time, I was you. "You are everything you need to be for what God has created you to be." God has an Agenda for your life. God took His Treasure and Buried it in You. You Are carrying treasure; but, you have an enemy who is after your Content, and has been all your life. I know you may have questions. I know your journey through life thus far may have left you with deep wounds and hard scars – disappointments, failures, heartache, grief, and trauma. You may wonder: 'How can I carry that kind of Treasure, yet have experienced such hard blows?' Maybe you have experienced molestation, lost a loved one, separation, divorce, addiction, or absent parents. Maybe you have tried again and again to reach your dream but end in cycles of failure. Maybe you just feel stuck and don't know how to take the next right step.

Stop holding it all in: the pain, the shame, the guilt, your gifts, your talents, your desires, and your potential. Remember? I told you, you have an enemy and he is after the Treasure you are. He doesn't play fair; he is out for the kill, to shut you down, steal your gift, and destroy your dreams. One of his primary methods is to attack our emotions until we can't tell up from down. We get so wound-up in an emotional spiral that we can't see straight and we begin to live by every feeling that blows through our minds. It is the way we think that holds us back. We can't afford to allow our emotional traumas to rule our minds or hold us down. We must experience them and release them – not live by them.

You are not cursed; you are CHOSEN. The battles you have faced are proof of that Truth. They are proof that there is a Treasure in you worth stealing. Chaos is a part of Growth. You may not be able to see the Treasure you are right now. The chaos you have gone through may have clouded your vision. The devil may have robbed you or caused you to hide the real you – to bury your Treasure. But what the devil has stolen, God can recover. And no matter how deep it may be buried, He can see it. Your Treasure is not lost. It has always been there, and He is calling it out of you. Hear and heed to His call. It is time for you to partner with Him to bring up and out your Treasure. If you will yield to His process, commit to the work, and refuse to fear the greatness within you – you will walk in the Unexplainable. Never despise the small beginnings.
Let me share with you a secret: Celebrate Small Successes, Be grateful with the Unfinished Product, and Gratitude Releases Creativity God has given me Revelation and Information for Women. At this time, more than any other, the true importance of women's role in society is emerging. You are in the right place, at the right time. I will guide you so that you can claim your place in these changing times.

What are you waiting On? There is a spot in this era of history with your name on it – it is time to take your place and make your mark. Your Destiny and Assignment are waiting on You!

Are you ready to give God your complete yes?
Let me help you identify your specific challenges and in three weeks you will see your entire life transform! In addition, the Lord has given me revelation on 6 key areas that we will be targeting during our time together.

We will focus on the 3 'I' system: Impact, Influence, and Intentionality. And we will deal with the 3 'D' System: Disappointment, Distraction, and Deception. My greatest desire is to see you discover your Treasure, see your dreams succeed, and watch you Transform into the fullness God has created you to be!

So tell me, what are you waiting for? What are the things you dream of creating that you haven't made yet? What ideas continue to pop up in your head that you would regret never giving a shot? I want you to repeat this out loud: "I serve the God that Creates daily through me Unlocking my Divinely Creative Gifts."

It is time to Create that thing that only You can Create. You can't be afraid to mess up. Chaos is a part of Growth. The mistakes you make along the way will cause you to grow stronger and wiser. "It is better to have tried and failed than to live life wondering what would've happened if I had tried" Alfred Lord Tennyson. But you will not fail, for this is the Promise of the Lord to you, "Though they stumble, they will never fall, for the Lord holds them by the hand." – King David Psalm 37:4 (NLT)

If you need someone to help get you unstuck. If you need someone to help grow and strengthen your faith and focus. If you need someone who has 'been there' to help guide you on your journey.

I would Love to Mentor you!
 
Spots go quickly so don't miss this special opportunity to take a leap into a better you – Your New and Next thing.
See you Soon!!!